SEEDARTS CINEMA
This SEEDArts program grew from a community-led initiative to bring the cinema arts to Southeast Seattle. SEEDArts Cinema presents film programs at the Rainier Valley Cultural Center that feature independent films, documentaries, foreign films and specialty titles. We also partner with other film organizations to present festivals.
CINEMA UNDER THE STARS
Free family movies projected on a large inflatable screen in Columbia Park (between the Rainier Valley Cultural Center and the Columbia Branch Library). Bring your blankets, low back lawn chairs and picnic food. Popcorn and other concessions will be available for sale. The films will start just after dusk, and are typically the third Saturdays of July and August.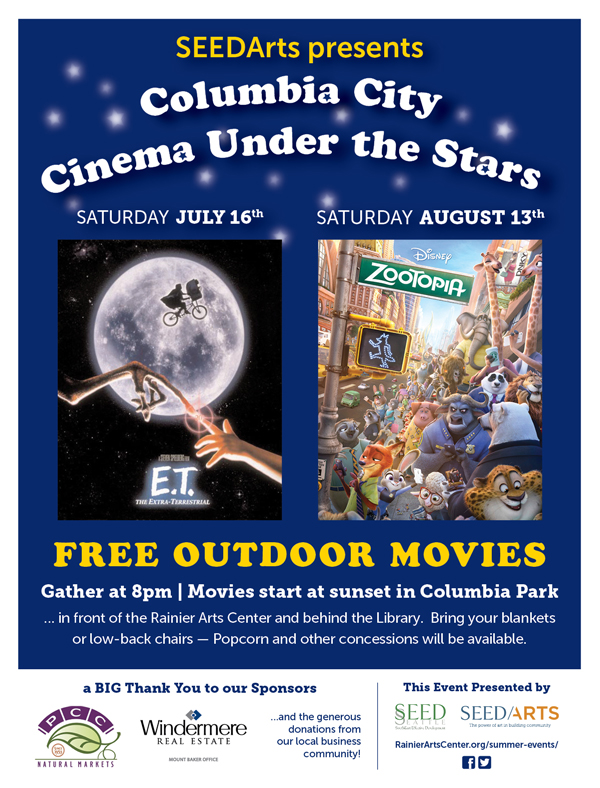 FESTIVALS
Our festival of locally made documentaries, "Made in Seattle: Homegrown Documentaries," runs each spring. We have also hosted several community film festivals, including the Northwest Film Forum's Children Festival and the Social Justice Film Festival.
FILM SCREENING SERVICES FOR LOCAL FILMMAKERS
With our digital projection and surround sound theater, we offer filmmakers an affordable space in which to screen their films, as works in progress or completed films. We offer substantial discounts to individual filmmakers. Contact Francisca Garcia for rental information.
For current schedule information, http://www.rainiervalleyculturalcenter.org/cinema/
Questions? Contact Kathy Fowells, SEEDArts Director