REAL ESTATE DEVELOPMENT – CURRENT PROJECTS
SEED's Housing Development Program was created in 1986 as part of our comprehensive approach to community revitalization in southeast Seattle. Since then, SEED has purchased and rehabilitated existing apartment buildings and developed new buildings to provide safe, attractive and affordable housing for residents.
Current Projects
Rainier Court Phase IV
3616 34th Ave S
Seattle, WA 98144
Units: 98 apartments and approximately eight commercial suites
Affordability: Seniors, below 50% and 60% of median income
Commercial Space: 5,750 square feet
Completed:
Project Type: New construction, mixed use
Owner: Rainier Court Associates 2015-IV, LLC /SEED Managing General Partner
Property Manager: SHAG
Project Cost: $25 Million
Financing:low interest loans through the City of Seattle Housing Levy, WA State Housing Trust Fund, WSHFC tax-exempt Bonds, Low Income Housing Tax Credits and Brownfields Revolving Loan Fund.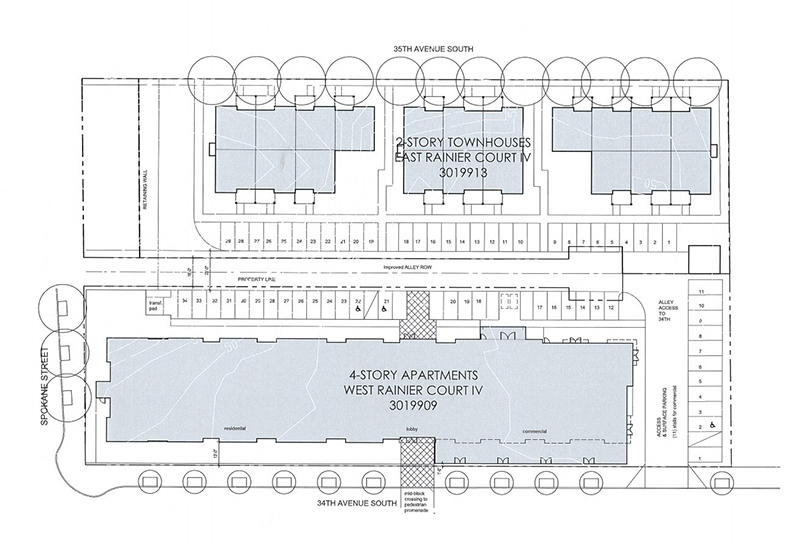 Zoom
The Rainier Court project is a mixed-use development at approximately 3700 Rainier Avenue South, just north of the Rainier Valley Square shopping center. The goal of the project is to reclaim 7 acres of underutilized land, remediate the contaminated soil and construct a development that provides quality affordable housing, commercial space, pedestrian activity, and density for this community. The first two phases were completed in 2005 (for additional information, see The Dakota and Courtland Place). Columbia Gardens, the third phase of this four-phase project, was recently completed in August, 2014. Rainier Court IV, the final phase, is currently going through the design and development approval process at the City of Seattle.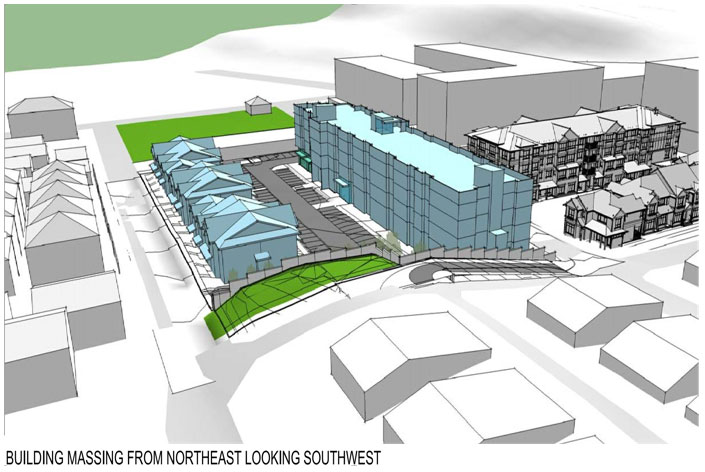 The Rainier Court IV affordable senior housing development will consist of a four-story apartment building on the west side of the site and three two-story townhouse clusters facing the townhouse and single-family neighborhood to the east. About 6,000 SF of ground floor commercial space will also be included for small, locally owned businesses. The redevelopment of the site is anticipated to result in many environmental, social and public health benefits to the community.
First, all contaminated soil above state cleanup levels will be either excavated from the site and treated/disposed of at a permitted facility or addressed through Ecology-approved institutional controls to assure long-term environmental protection. In addition, by replacing this blighted, largely vacant and undeveloped land with quality new affordable housing, construction of Rainier Court IV will eliminate contaminants that were the result of imported fill and/or hazardous substance use, storage, spills and disposal related to vehicle and equipment storage, maintenance and salvage on this site that created the brownfield. A WA State Commerce Brownfield loan of $1.8 million has been applied for to cover the cost of the environmental cleanup.
Second, the community will benefit socially from the creation of 98 much needed new affordable housing units for people 62 and older who have incomes between $17,000 and $42,000 per year. Nineteen percent of seniors (aged 62 and older) in Southeast Seattle live below the poverty level, and affordable housing is a critical need of that population. In addition, Phase IV is being designed to include sustainable construction features, such as energy saving appliances and fixtures, water conserving landscaping and fixtures, green certified finishes, use of native and drought-tolerant plants in landscaping that will save utility costs for the residents and provide a healthy environment.
Third, in addition to creating housing, Phase IV will create an estimated 15 cleanup, 242 construction and 17 on-site permanent jobs. In addition, as this undeveloped brownfield becomes a productive community asset, it will help to enhance the property values of the surrounding area. Additional economic benefits will include an increase in revenues to the businesses that surround the site through increased sales to new residents, and an increase in local sales tax revenues through that new economic activity.
Fourth, the greenspace benefits of the project will be significant. Rainier Court IV will be designed to exceed the standards of the City of Seattle's Green Factor regulations regarding landscaping and on-site open space. The design will include landscaped areas on site that incorporate rainwater harvesting, low-water use plants, and pea patches for residents. In addition, vegetation will be planted along the street, including green walls and large trees, adding to the urban canopy. SEED also has plans to develop ¾ acres of land on the south end of this block into a public park that will serve current and new residents of Rainier Court as well as the surrounding community.
And fifth, beyond the public health benefits of having the site cleaned up, Rainier Court IV, as part of the larger Rainier Court project, provides the public health benefits of an urban, in-fill, transit-oriented development site. The site is ½ mile from the Mt Baker light rail station and one block from a stop served by three bus routes. In addition, the site is located adjacent to Rainier Valley Square, a 104,000 square foot retail center with a grocery, drug store, video store and specialty shops. Being a centrally located and pedestrian-friendly development will enable citizens to walk to transit, shops and services in their neighborhood.
Rainier Court Phase IV Environmental Cleanup Public Review
SouthEast Effective Development (SEED) requests the public's review of the alternative cleanup actions being considered for the Rainier Court Phase IV site, located between 34th and 35th Avenues South and adjacent to South Spokane Street, in the Mt. Baker neighborhood. Much of these sites were formerly in industrial use and used as an unregulated landfill in the 1930's and 1940's. Due to possible levels of contamination, the sites were included in the King County Brownfields Showcase in 2001 and the U. S. Environmental Protection Agency (EPA) has undertaken substantial environmental testing. SEED's consultant, GeoEngineers, has conducted additional analysis of the data, including groundwater sampling. These studies have found landfill debris (glass, bricks, domestic garbage, charred debris, etc.) beneath the site at .5-10 feet deep.
The likely remedial action will be a combination of excavation and off-site disposal of contaminated soil and on-site capping and long term monitoring of remaining contamination. The site was used as an undocumented landfill in the 1930's and 40's. Detailed data on the contamination has been collected and SEED already cleaned two adjacent sites for the earlier phases of the Rainier Court Project. The Final Cleanup Plan, including the preferred cleanup method will be submitted to the State Department of Ecology (ECY), which regulates cleanup activities, for approval in early 2016.
SEED successfully cleaned up three previous sites with similar characteristics for the Courtland, the Dakota and Columbia Garden buildings under the State of Washington Department of Ecology's Voluntary Cleanup Program (VCP). The State establishes levels on soil contamination that are safe for humans and the soils and groundwater must be cleaned to that level. The cleanup alone for those three projects exceeded $2.5 million. To partially offset this expense, SEED received grants from USEPA ($600,000 in value). We are in the process of applying for a Brownfield Revolving Loan and grant for Phase IV.
Remedial Investigation/Feasibility Study and Cleanup Action Plan
---